Speaker Tour with Yafeuh Balogun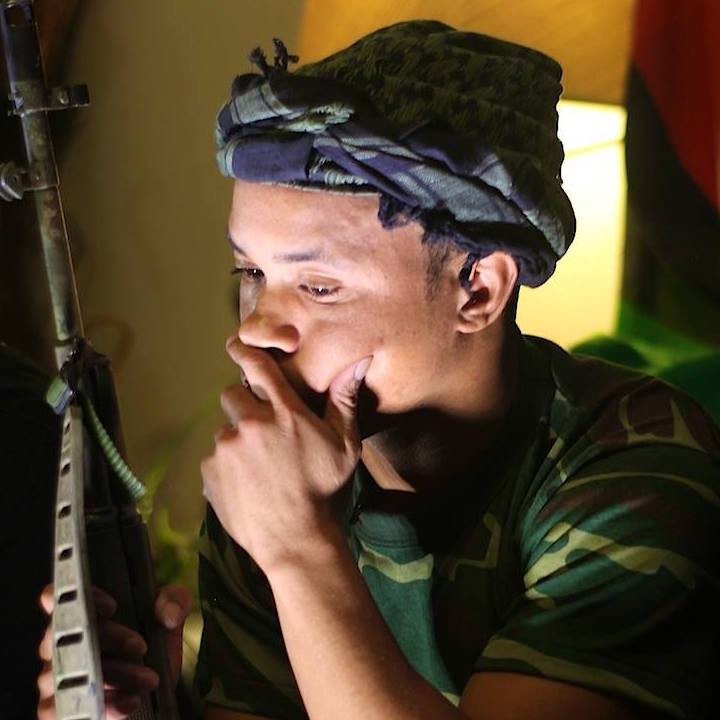 Yafeuh Balogun
Co-founder of Huey P. Newton Gun Club and Guerrilla Mainframe
Yafeuh's background has always been surrounded by the socially conscious movement through his parents and extended family was involved during the Black Empowerment Era. Taught the value of community by his father's consistent example of love for his fellow neighbor.
A graduate of El Centro College with a Degree in Applied Science, Yafeuh has since then developed many social programs for the Dallas community. Some programs include Community Unification Day which is designed to detour fratricide and seek cohesion amongst the public. Another program is the Community Health and Health Wellness Day that promotes holistic lifestyles and healthy living, targeting areas not exposed to the education of health. These programs are just to name a few Yafeuh has been involved in, also orchestrating and being a part of over 400 armed maneuvers which are to educate the public about their rights to bear arms legally.
Yafeuh has been interviewed about his work within the community by some top publications, which include:
CBS, NBC, Fox, The BBC, Hip-Hop Weekly, Dallas Morning News, New York Times, Washington Post, LA Times, among others.
For booking opportunities please fill out the contact questionnaire and in the subject line please put "Request for Speaking Tour"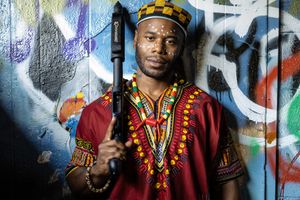 Rakem Khafre Balogun
Co-founder of the Huey P. Newton Gun Club
Chief of Guerrilla Mainframe
Rakem Balogun, whose legal name is Christopher Daniels, is an American activist, best known for his involvement in a Facebook-related incident that occurred on December 12, 2017, which became headline news in the United States. Balogun enlisted as a US Marine in 2001 and served in the Iraq War in 2003. [1][2] Balogun cites his time serving in the US Marine Corps as alienating due to the behavior and racial attitudes of white officers, and left the Marine Corps. Balogun became a founding member of groups such as Guerrilla Mainframe in 2008, and of the Huey P. Newton Gun Club in 2014, both based in Dallas, Texas. Balogun cites the killing of unarmed black men by police officers as the motivation for creating these groups. Balogun was startled awake in his Dallas home by a large crash and police officers screaming commands on December 12, 2017, when he and his 15-year-old son were forced outside of their Dallas home dressed only in their underwear. Balogun was handcuffed and learned FBI agents were investigating domestic terrorism and had been monitoring him for years for posts on Facebook criticizing police. In particular, posts by Balogun praising Micah Johnson, the perpetrator of the 2016 shooting of Dallas police officers, were cited as grounds for Balogun's arrest. According to Balogun he was exercising his right to free speech when he praised Johnson, [14] and was not endorsing violence against individual police officers, but a general struggle against the Dallas Police Department. [6] The event made worldwide news due to Balogun being the first person ever to be publicly designated a "Black Identity Extremist" by the FBI, sparking a national debate on the appropriateness of that term. In May 2018, Balogun had all charges dropped against him.
He is known for his creation of "Guerrilla Mainframe Martial Arts program "He trained people to learn how to use firearms, self-defense, and to create a healthy lifestyle,". "He was a very strong political activist in the areas of community organizing, self-reliance, self- determination, and things of that nature. He did believe in the right to bear arms, and felt that people should be trained with it, particularly black people. Having him around was a threat to their structure." And going after threats to their structure—particularly black ones—is what the FBI has been doing for nearly a century, starting with Marcus Garvey in 1919 and continuing through today's Black Lives Matter movement.
For booking opportunities please fill out the contact questionnaire and in the subject line please put "Request for Speaking Tour"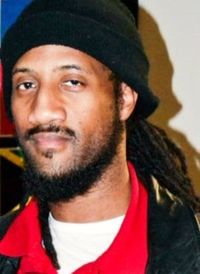 Chairman Erick Khafre Balogun, Guerilla Mainframe
Huey P. Newton Gun Club (Historian)
Born from humble beginnings, not much different from the average black man/African in America, Chairman Erick Khafre has been actively organizing in his community locally, regionally, and nationally for ALL of his adult life. Initially founding an organization called, "Freedom Now", in his youth and current leader of Guerrilla Mainframe (GMF-RM).
Chairman Erick has served as a supporter of women rights, freedom of all black men/women (political prisoners) to be tried by a jury of their peers, and a number of causes promoting the liberation of the African Mind.
Forming GMF was in part a process that reflects the political development undergone by the Chairman over the past several years. He is committed to the liberation of his people from the chaos called America and the notion of European imperialism.
Erick was also inspirational with the development of the Huey P. Newton Gun Club foundation as well, with his clear understanding of revolutionary theory. Often time he will/would lead political education to explain to the cadre, the what and why's. We deem his contribution as being the most significant, coupled with more than 20 years of community organizing. He is a respected father, husband, and leader setting course a great example to be followed.
For booking opportunities please fill out the contact questionnaire and in the subject line please put "Request for Speaking Tour"